Sea Dog Brewing, Co to Host Southern Spring Fling "Crawfish & Crafts" 
Clearwater Brewery Hosts Crawfish Boil Benefitting Habitat for Humanity
Tampa Bay, FLA (April 5th, 2017) – Clearwater's Sea Dog Brewing Co. is hosting "Crawfish & Crafts" a Crawfish Boil benefitting Habitat for Humanity of Pinellas County. The event kicks off Saturday, April 15th at 3pm. The southern-influenced boil will crawfish & shrimp, live music, games, raffles, prizes, brewery tours, a brewer meet & greet, and more!
The festivities will begin with Sea Dog's happy hour special, $3.50 drafts from 3 PM – 6 PM. There will be a live performance by musician, Adam Hocker, from 4 PM to 7 PM and the crawfish and shrimp will be served at 4 PM, until supplies last. Prices start at $8.00 with four options: crawfish, crawfish & shrimp, small shrimp, and a large shrimp. Each dish includes all the fixings: Andouille sausage, red potatoes, and ear of corn seasoned with Old Bay and garlic salt.
Head Brewer, Bobby Brewer will feature his Gumbo Gose for pairing. "This traditional Gose has a Cajun twist! It has salty and sour notes on a pallet, but the real fun comes in with a touch of old bay seasoning, habanero pepper, fresh orange peel and crawfish! We brewed only one keg for the event, so we expect it to go fast", says Bobby.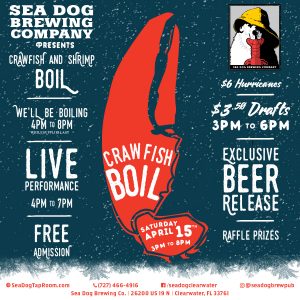 Guests will enjoy giant jenga, cornhole, gift raffles, and a 50/50 drawing benefitting Habitat for Humanity. "At Habitat for Humanity, we value partnerships with local businesses who support our mission. We are delighted to be chosen as a partner charity for Sea Dog Brewing Company's Crawfish and Shrimp Boil," said Mike Sutton, CEO Habitat for Humanity of Pinellas County.
For more information about the event, visit http://bit.ly/2nTiMdR
Sea Dog Brewing Co. also features weekly promotions including Taco Trivia Tuesdays with Trivia Nation, Growler Thursdays with $9.99 growler refills, Mug Club Mondays, and a daily $3.50 Happy Hour from Monday to Saturday 3 PM – 6 PM and all day on Sundays from 3 PM – 10 PM. Visit Sea Dog Brewing Co. online athttp://seadogtaproom.com/events/
About Bobby Brewer
A local Florida native to Safety Harbor, Bobby Baker's education begins in science with a Bachelor's Degree in Aeronautical Science from Embry Riddle Aeronautical University in Daytona Beach. His brewer training with Sea Dog began in Bangor, Maine in 2012. There he learned the old-world English style brewing of beer. Sea Dog's brewing system is a Peter-Austin system, which was the first generation of microbreweries, and was developed by Mr. Austin himself in England in 1978. Upon learning the trade of brewing, his inspiration to develop new recipes for Sea Dog was insatiable. Now, Baker has the freedom to develop recipes on a weekly basis- some that stay in the tasting room & and some that venture into Sea Dog's on premise accounts. He oversees a 20-barrel brewing system at the Clearwater location, responsible for the distribution of beer all the way from Key West to Pensacola. Most of his inspiration comes from local chefs, and food inspired beer. Offering beers with such diverse flavor profiles, Baker enjoys knowing that his customers can always expect a complex -food driven beverage.
About Habitat for Humanity of Pinellas County
Since 1985, Habitat for Humanity of Pinellas County has constructed 401 homes for struggling families in Pinellas County using locally raised funds. Volunteers and the future homeowners construct the homes, which are sold at no profit and financed with a zero-interest loan. Habitat Pinellas homeowner candidates earn 30 to 80 percent of area median income. For Pinellas County, that translates to as little as $27,000 a year for a family of four. Candidates must also demonstrate need for adequate shelter; ability to pay back a zero-interest loan and willingness to partner with Habitat Pinellas to invest 350 to 450 sweat equity hours. Mortgage monies are used to build even more homes, making each donation to Habitat a perpetual legacy to the community. Habitat believes that homeownership contributes to family stability, leading in turn to community stability. Additionally, Habitat Pinellas raises funds through their ReStore, a home improvement outlet where donated household and building items are sold to the public. For more information about Habitat for Humanity of Pinellas County, contact 727-536-4755 or visitwww.HabitatPinellas.org.
EVOLVE & CO PUBLIC RELATIONS + CREATIVE: Evolve & Co is a full-service branding, marketing, advertising and PR agency based downtown St. Petersburg. www.evolveandco.com
Editors: For details, or to schedule an interview contact Lisa Williams lisa@evolveandco.com or 727.490.9835.
###